Room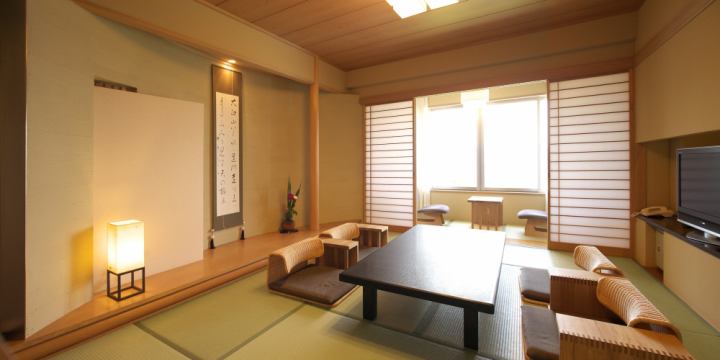 It has a source that will never die before the era of Manyoha, looking for mountains that change every season.
Number of rooms

Total 80 rooms

Room supplement

5 rooms with hot spring / 71 Japanese Japanese style rooms / Japanese + Western style room(Twin Beds)4 rooms

Standard room facilities

All rooms Bath toilet / All rooms Shower / All rooms Air conditioning / Television / Refrigerator (with chargeable beverages)

Internet related

All rooms available
[Connection method]Wireless LAN
[PC rental]No
[Internet connection]Free

Amenities(Rooms)

Yukata / bath towel / hand towel / toothbrush·Toothpaste / cotton swab / hair dryer / duvet

The pillow becomes a pillow with a buckwheat hoof.If you are allergic to buckwheat Please contact us in advance.We will replace it with one without buckwheat.

Facility content

Table tennis(Toll·Reservation required) / Lounge bar(Toll) / Banquet room / Karaoke facility(Toll·Reservation required)

Service & Leisure (including arrangement)

Beauty Spa(Toll·Reservation required) / Massage(Toll·Reservation required) / Shogi / Go(Toll) Mahjong(Toll)

Credit cards available locally

JCB / Visa / Master / American Express / UC / DC / Debit Card

Standard check-in time

15:00

Standard checkout time

10:00

Cancellation provisions

3 days ago ~ 2 days ago:30% of room charge
1 day ago:50% of the room charge
On the day of arrival:100% of the accommodation fee
Cancellation without any contact:100% of the accommodation fee
Bad weather, negotiable in case of emergency.
※If there is a cancellation rule setting for each accommodation plan, that will be given priority.